Children International
Help Children International provide support and assistance to children and families by sharing these inspiring messages with your audiences. Children International is rooted in the idea that, with the help of our supporters, we can set in motion a powerful multiplier effect that will end poverty for children, youth and future generations around the world.
Kids Speak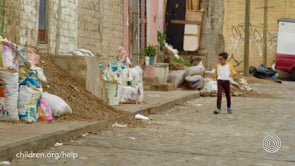 Kids Speak
Even when the whole world changed, the things that mattered most to us stayed the same. We need to end poverty for good.
Children around the world are unique, full of dreams and have the potential to achieve almost anything despite the struggles they face from poverty. Kids Speak, a new public service announcement from Children International, highlights the organization's mission to end poverty and ensure children around the world have access to health care, education, life skills – and more. Air this PSA with your audiences to help children around the world overcome poverty and achieve their dreams.
Good Finds a Way
Throughout the coronavirus crisis, Children International has provided critical aid to children and families in poverty. Our latest public service announcement, Good Finds a Way, shows how we have prioritized our families' most urgent needs, including food assistance, hygiene education, financial support and medical help.
For Good
Children International has made a commitment to end poverty for good! It won't happen overnight – it takes a commitment from people like you.  This captivating imagery shows you children in communities around the world and illustrates the need for children to have access to medical care, education and opportunities that make a lasting difference in their lives.
Outdoor creative is available for billboards, bus shelters and other types of outdoor media. To order free materials, email mediaservice@psadirect.com with contact information, location and size(s) requested.
about
Children International is a top-rated, nonprofit, humanitarian organization working to eradicate poverty around the world. We believe that ending poverty starts with children. Our vision is to bring people together to put an end to generational poverty through programs focused on health, education, empowerment and employment. It is a long-term, evidence-based, high-impact approach that empowers children and youth to break the cycle of poverty for good.
questions
For questions, please contact mediaservice@psadirect.com.