U.S. Center for SafeSport
Sport culture is changing—for good—through the efforts of brave, hard-working people who are stepping up and doing the right thing. The U.S. Center for SafeSport is at the forefront of this change.
The Questions You Should Be Asking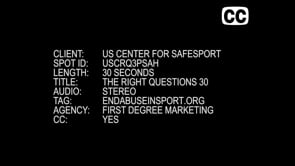 The Questions You Should Be Asking
It can be challenging for parents to talk with their children about emotional, physical, and sexual abuse and misconduct in sport. The U.S. Center for SafeSport is a resource that was created to help people who work with athletes better identify, prevent, and respond to these important issues. Taking one of the online courses offered by the Center can educate parents and coaches about the questions they should be asking but often don't.
about
Established in 2017, the U.S. Center for SafeSport is the independent and exclusive authority charged by Congress with responding to and preventing all forms of abuse and misconduct within the U.S. Olympic and Paralympic Movement. The Center is an independent, nonprofit 501(c)(3) organization headquartered in Denver, Colorado.
The Center receives, investigates, and responds to reports of abuse and misconduct from individuals affiliated with the U.S. Olympic and Paralympic Committee (USOPC) and its National Governing Bodies (NGBs). The Center ensures that the USOPC and NGBs properly apply policies and procedures to govern abuse prevention and maintains a database of individuals sanctioned from participation in their sport.
Throughout the Olympic and Paralympic Movement, the Center trains athletes, parents, coaches, volunteers, and organizations at all levels on best practices and principles for preventing abuse in sport settings. In doing so, the Center advances its mission of making athlete well-being the center of our nation's sports culture through abuse prevention, education, and accountability.
questions
For questions, contact mediaservice@psadirect.com.